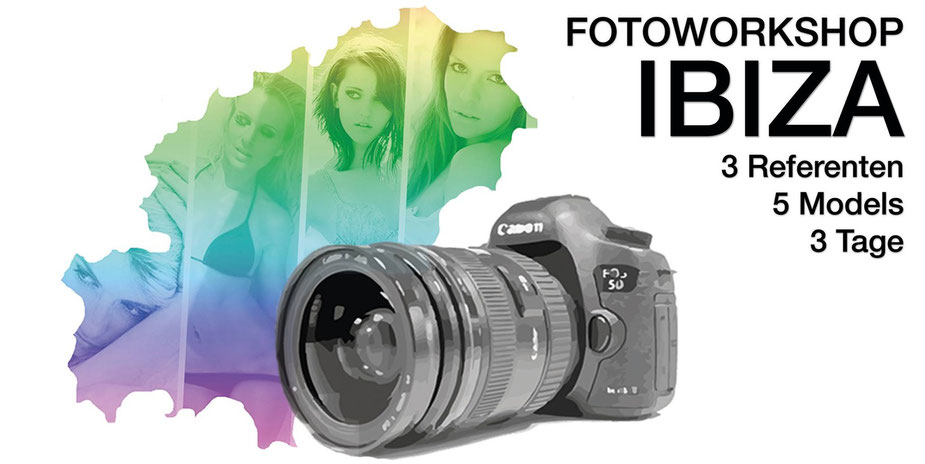 An absolute highlight for every photographer on the island of the "rich and famous" from April 7th to 9th 2014
For group bookings (3 people or more) 10% discount on the workshop fee! Workshop language: German & English
Especially for photographers it is important to break out of their usual environment in order to develop new and creative ideas. The selected luxury villa close to the picturesque bay of Cala Vadella provides a perfect workshop environment. Step by step the participants will be introduced to the topics people, fashion, and beauty photography. They are guided by the professional photographers Matthias Schwaighofer, Dieter Hirt, Daniel Schalhas, and PRIOLITE-Expert Martin Meieregger. This kind of photography workshop is designed for beginners and amateur photographers.
Professional Models & Make-up Artist
The five professional models Leni, Lela, Sina, Laura, and Lilith offer a wide range of outfits and accessories. In conjunction with our make-up artist Vicky Lash the sky becomes the absolute limit! The basic lessons of the workshop include how to plan a shooting, deal with models, work with a make-up artist, adjust the lightning on location, and much more. An absolutely unique feature is probably that the participants can rent high-end equipment such as camera bodies, lenses, flashes, brighteners, and so on.
Luxury Finca for Shooting
The house is located in the southwest of Ibiza, just 1.5 km from the beach of the small bay of Cala Vadella. It stands on a 1700 qm walled piece of plot and provides a marvelous view of the rolling countryside. The sandy beach of Cala Vadella is approximately 300 m long and the sea there is fairly quiet. However, the other beaches of the southwest coast are not far away: Cala Tarida is about 4 km away, Cala Carbo about 5 km, and Cala d'Hort about 7 km. Very pleasant is the short walk to the closest supermarket and restaurant (about 150 m). For larger purchases it is recommended to go up to San Jose (about 7 km), which has a wide range of shops, restaurants and bars. The airport in Ibiza Town is about 16 km away from the place of the event.
Features:
- ) Large pool
- ) ADSL Internet & WiFi
- ) Air conditioning
Workshop fee per person: EUR 498,- (CHF 609,- ) incl. 20% VAT
The following services are included:
- ) Speaker fees
- ) Model fees
- ) Make-up artist fee
- ) Location fees
- ) Non-commercial image rights
- ) Snacks & Drinks
- ) Extensive workshop documentation
- ) Voucher for a fine art print up to the value of EUR 40,- (max. 40x60 cm)
- ) Equipment of all partners to borrow locally (camera bodies, lenses, flashes, brightener...)
Conditions
-) Participants must come up with the journey to Ibiza, accommodation and meals individually; rental cars are mainly organized for the group and charged extra
-) The registration will be confirmed. The exact program as well as pictures of the models will be announced prior to the workshop date ( about 2 weeks)
-) Payment terms: as participants register the full amount of the workshop fee (EUR 498,- / CHF 609,- including VAT) will be invoiced
-) Cancellation charges: up to 02/24/2014 50%, until 03/10/2014 70 %, and until 03/31/2014 90 % of the workshop fee. It is recommended to organize a cancellation insurance individually!
Application
For group bookings (3 people or more) 10% discount on the participation fee. The maximum is 24 participants - first come, first served!
Proposals for hotel rooms via www.booking.com (April 6h to 13th 2014)
Hostal Florencio *
Einzelzimmer um € 196 inkl. Frühstück
Doppelzimmer um € 252 inkl. Frühstück
Hostal Tarba **
Einzelzimmer um € 176,40 inkl. Frühstück
Doppelzimmer um € 239,40 inkl. Frühstück
www.booking.com/574e474fa7e7a9581
Apartamentos Lido ***
Apartment 2 Personen um € 340,20
Apartment 3 Personen um € 371,70
Apartment 4 Personen um € 403,20
www.booking.com/9c23ec02001f2709
Hotel Apartamentos Marina Playa ***
Studio 2 Personen um € 296,10
Apartment 3 Personen 370,16
www.booking.com/e1abe03d446a506e
THB Los Molinos *****
Einzelzimmer um € 410,50 inkl. Frühstück
Doppelzimmer um € 633 inkl. Frühstück
For flights check checkfelix or swoodoo